"Know Barbara Smith: One of Our First Proud, Out Black Lesbians" by Janet Mock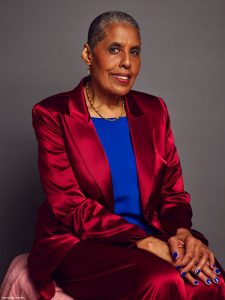 Like many feminists, I met Barbara Smith on the page. I read the "Combahee River Collective Statement," which she co-authored, in a women's studies course. I did not take note of her name. I was not compelled to research her beyond the merits of the collective, a group of Black feminists and lesbians who gathered and organized in Boston in 1974. She did not call attention to herself; instead, she did the work, as part of a team. Her work speaks to that mission: to bring her sisters to the page and the work, by creating platforms, documents, and publications that would remain long after they had gone.
In her 72 years, Barbara not only cofounded the Combahee River Collective, she helped build a visible Black feminist movement during a period when one did not exist. "Virtually everything I have done has been in service of that mission," Barbara says, from teaching one of the first courses on Black women writers in the United States in 1973, to building the field of Black women's studies by asserting that there was and could be such a thing, and cofounding Kitchen Table: Women of Color Press in 1980, the first United States publisher for all women of color to reach a large national audience, which published the second edition of the beloved and groundbreaking anthology This Bridge Called My Back. "Arguably, the history of Black women's organizing would be very different if none of these interventions had occurred," she tells me.